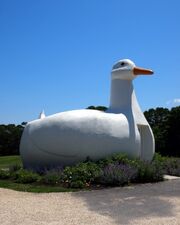 Moby Duck
is the parody of
Moby-Dick
, this takes place in a peapod
(
parody of Pequod
)
where there are two captains. The first is Captain Starbuck, the second Captain Ahab.
Starbuck looks through a telescope and sees a white animal and yells, "Wait, Cap'n! Thar she quacks! Moby, the great white duck!" Captain Ahab takes a closer look and gives the tagline "Argh! That not be Moby, the great white duck! Argh!", and explains the differences and sounds out syllables, showing, for example, Daisy, the entertaining white snail. The two admit defeat before continuing their search. A running gag is the fact that they never look behind them, which is exactly where Moby is.
Ad blocker interference detected!
Wikia is a free-to-use site that makes money from advertising. We have a modified experience for viewers using ad blockers

Wikia is not accessible if you've made further modifications. Remove the custom ad blocker rule(s) and the page will load as expected.