"Moon Rope/Welcome to the Moon" is the 97th episode of Between the Lions.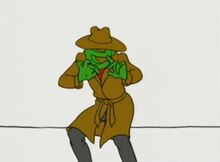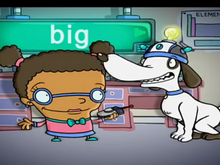 Moon Rope
Edit
Theo Lion reads the cubs "Moon Rope", a book about a fox who wanted to go to the moon.
Welcome to the Moon
Edit
The cubs watch an informational video about the moon.
Segments
Edit
Moon Rope
Plane Words: Mole, Hole, Hose, Nose, Rose, Rope
Fred Says: Rope
Blending Bowl: Poke
Balloon Words: Poke, Pole, Role, Rope
Welcome to the Moon
Joy Learno: Moon
Polly and the Pirate: Telescope
Synonym Sam: Big, Giant, Enormous, Humongous
Surfin' the Web
This is the first episode since Episode 55: Stop That Chicken! to teach the letter O. However, unlike that episode (and every "o" episode before it), this one teaches long "o" instead of short "o".
Ad blocker interference detected!
Wikia is a free-to-use site that makes money from advertising. We have a modified experience for viewers using ad blockers

Wikia is not accessible if you've made further modifications. Remove the custom ad blocker rule(s) and the page will load as expected.