Picture
Segment
Description

COLD OPEN
Leona raps about some word that we'll see today (that also end with "x").

SCENE 1
Theo hears his daughter saying she wants to fix "him". Thinking she means Lionel, Theo reads her I'll Fix Anthony.

SCENE 1 (cont'd)
It turns out that by "him", Leona wasn't talking about Lionel, she was talking about Herman, her broken jack-in-the-box. Lionel enters, confused. So, Theo reads the book to him.

Insert
The grey hand removes the letter "x" from the word "fix".

Animation
Notebook: Six, Sax, Fax, Fox, Box

Film
Gawain's Word: Box

Celebrity
Fred Says: Fix/Six

Puppets
Reginald Livingston Seagull: X

Film
Real Kids: Words With X

Insert
The grey hand puts the "x" back.

SCENE 2
Theo has fixed Leona's jack-in-the-box, and then shows her and "ox in a box".

Cartoon
Fun with Chicken Jane: Chicken Jane and the Ox in a Box

SCENE 2 (cont'd)
Lionel finishes reading "I'll Fix Anthony, and warns Leona that when she's 6, he'll be 9.

SCENE 3
Theo decides to read Leona and "Herman" Jamaica Louise James, about a girl who loves to draw.

SCENE 3 (cont'd)
A few hours later, Leona has covered the entire library with her drawings!

Insert
The grey hand removes the "aw" from the word "draw".

Film
Magnets: Straw, Shawl, Saw

Celebrity
Fred Says (again): Saw

Puppets/Animation
Reginald Livingston Seagull: Painting a Cat

Insert
The grey hand puts the "aw" back

Lionel tries to get Leona to read the new Cliff Hanger with him, but she's too busy drawing.

Cartoon
The Adventures of Cliff Hanger: Cliff Hanger and the Awfully Big Seesaw

SCENE 4 (cont'd)
Leona finishes her latest drawing - Cliff Hanger!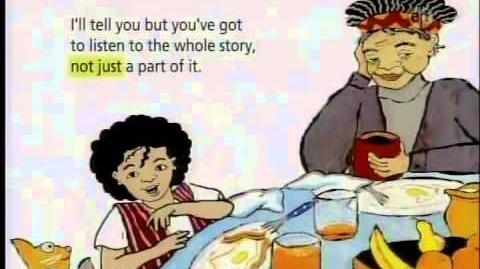 Ad blocker interference detected!
Wikia is a free-to-use site that makes money from advertising. We have a modified experience for viewers using ad blockers

Wikia is not accessible if you've made further modifications. Remove the custom ad blocker rule(s) and the page will load as expected.