Click, Clack, Moo / The Little Red Hen
is the 76
th
episode of
Between the Lions
.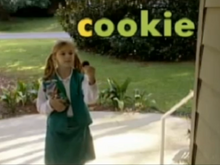 Click, Clack, Moo
Edit
Sign: cat, cattle, corn, car
Song: "If You Can Read Car" (sung by Chris Cerf) (EKA: Episode 66: Art Party)
Real Kids: words beginning with C
Silent E: cap/cape (EKA: Episode 12: The Chap With Caps)
Fred Says: clock (EKA: Episode 02: The Lost Rock)
Short Song: clam, swam, dam (EKA: Episode 10: Lionel's Antlers)
Gawain's Word: cry (EKA: Episode 15: There's a Fly in My Soup)
Those Magnificent Monkey Cheerleaders: cry
The Little Red Hen
Edit
Refrigerator Magents: hay, horse, hoof, hoop
Gawain's Word (again): hoop (with cheerleaders) (EKA: Episode 35: Zoop! Zoop!)
The Word Doctor With Dr. Ruth Westheimer: stop/hop (EKA: Episode 02: The Lost Rock)
Song: Brian McKnight and Cleo sing "Homophones" (EKA: Episode 62: Out in Outer Space)
Fred Says (again): hen (EKA: Episode 06: The Hopping Hen)
Watch Episode
Edit
Ad blocker interference detected!
Wikia is a free-to-use site that makes money from advertising. We have a modified experience for viewers using ad blockers

Wikia is not accessible if you've made further modifications. Remove the custom ad blocker rule(s) and the page will load as expected.