The Carrot Seed / The Empty Pot
is the 72
nd
episode of
Between the Lions
.
The Carrot Seed
Edit
Refrigerator Magnets: sun, salt, sock, soap
Gawain's Word: soap (EKA: Episode 64: Two Goats, One Coat and One Boat)
Fred Says: sing (EKA: Episode 25: A King and His Hawk)
Real Kids: words beginning with S
Lions Scratching
Sloppy Pop sings Read The Signs (EKA: Episode 06: The Hopping Hen)
The Un-People: unseated/reseated (EKA: Episode 65: Treats!)
Tongue Twister: seven selfish shellfish (EKA: Episode 11: To the Ship! To the Ship!)
Cleo signs "Without and S" (EKA: Episode 45: Trains and Brains and Rainy Plains)
The Empty Pot
Edit
Sign: dad, dog, deer, duck
Fun With Chicken Jane: Chicken Jane and the Big Flying Duck (EKA: Episode 09: Fuzzy Wuzzy, Wuzzy?)
Real Kids (again): words beginning with D
Lions Dancing
Fred Says (again): drop (EKA: Episode 30: Be Bop)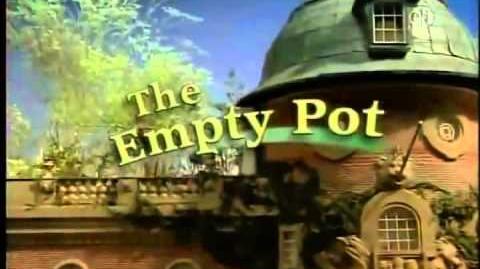 Ad blocker interference detected!
Wikia is a free-to-use site that makes money from advertising. We have a modified experience for viewers using ad blockers

Wikia is not accessible if you've made further modifications. Remove the custom ad blocker rule(s) and the page will load as expected.