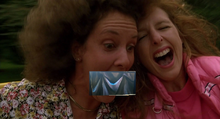 Tweet! Tweet! is the 52nd episode of Between the Lions.
After hearing the book Bone Poems, Walter and Clay are humongous tweeting dinosaurs.
Segments
Edit
Martha Reader and The Vowelles: feet (EKA: Episode 33: The Good Seed)
Footprints: feet/fee/free/freeze
Fred Says: squeeze
Fonix sings "Double E, EE" (EKA: Episode 33: The Good Seed)
Gawain's Word: sweep
Microbes: sweep, weep, beep, beet, bee
Fun with Chicken Jane: Chicken Jane and the Bees
The Monkey Pop Up Theatre: Little Bo Peep
What's Cooking With Theo and Cleo: Beef in a sheet with no beets or greens
Sam Spud: slippery as an eel
Dr. Ruth Wordheimer: parakeet (EKA: Episode 33: The Good Seed)
Watch Episode
Edit
Big Bird, Bert and Ernie from Sesame Street make a cameo in this episode.
Ad blocker interference detected!
Wikia is a free-to-use site that makes money from advertising. We have a modified experience for viewers using ad blockers

Wikia is not accessible if you've made further modifications. Remove the custom ad blocker rule(s) and the page will load as expected.