Picture
Segment
Description

SCENE 1
Theo is giving out t-shirts before the poetry day starts.

SCENE 2
Click and Cleo prepare the play by announcing the audience by adding words to their poems with the "ai" sound.

SCENE 2

cond't

Lionel and Leona want to write a poet with the "ai "sound, so Cleo makes them do it.

Insert
Walter and Clay think it's Poultry Day, but it annoys Busterfield saying "It's Poetry!!!"

SCENE 2

cond't

The first poem begins, being read by Theo, called "Waiting for the Train" with some words with the "ai" sound.

Insert
Busterfield explains that the poem has rhymes like "train" and "rain", but Clay and Walter still get stuck on the "poultry" idea.

Insert
The grey hand takes the "ai" sound from train

Muppets
Martha Reader and The Vowelles: pail

Cartoon
Word Machine: pail, tail, sail, pail

Muppets/

Film

Hugo and Ines: The Pail

Song/Celebrity
Fonix sings "A I can Bring you Pain"

Animation
Colored Patterns: gain, pain, paint

Muppets
Gawain's Word: paint

Cartoon
Tiger Words: paint

SCENE 3
Robert Louis Stevenson told his poem called "Rain".

Insert
Walter and Clay liked the poetry story, but Buster says that not all have to have a story.

SCENE 3

cond't

Lionel and Leona now are telling a poem called "Drain Chain"

Insert
Busterfield knows the previous poem was about the words in poetry, because the words have the accented the poet's raw emotions. Then makes Clay's brain hurt.

Song
"When Two Vowels Go Walking"

Celebrity
Fred Says: drain

Cartoon
Sky Words: drain, brain, train, rain

Cartoon
The Adventures of Cliff Hanger: Cliff Hanger and the Rain

Insert
The grey hand put the "ai" sound back

SCENE 4
A chicken from the jazz band tells a poem about dancing with a chicken in the rain.

SCENE 4 (cont'd)
Cleo thanks everyone and to have another Poetry Day next year, until the pigeons appeared to say that they have a poem that's called "A Poem" that makes Busterfield move around different backgrounds. And Click finally used the lever to raise the curtain instead of using the swtiches.

Insert
The pigeons flew back to the dome when Busterfield says "Bravo" to them because their poem was beautiful, but Walter still doesn't understand about "poultry", Busterfield ended the episode by saying "I take it all back" in his annoyance with "poultry" again.
Watch Episode
Edit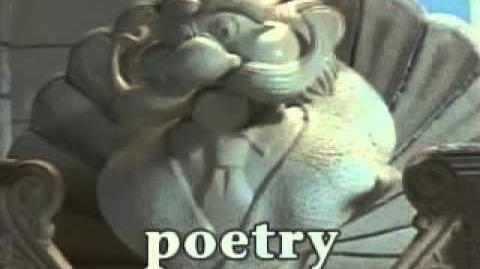 Ad blocker interference detected!
Wikia is a free-to-use site that makes money from advertising. We have a modified experience for viewers using ad blockers

Wikia is not accessible if you've made further modifications. Remove the custom ad blocker rule(s) and the page will load as expected.