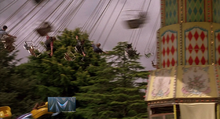 The Lions family read the "Icarus's Wings" book in the corner. Buster, however wants to fly like Iccarus, so Walter and Clay make a pair for him.
Martha Reader and The Vowelles: ring
Gawain's Word: sing
Song: "Without an ing"
Construction: ing,, thing, ing, zing, zip
Fred Says: zip
Fun with Chicken Jane: Chicken Jane and the Skipping Hippo
The Great Smartini: kitten mittens
Space Words: kitten, kit, sit, sing
Hugo and Ines Teatro: the Singer
Watch Episode
Edit
Ad blocker interference detected!
Wikia is a free-to-use site that makes money from advertising. We have a modified experience for viewers using ad blockers

Wikia is not accessible if you've made further modifications. Remove the custom ad blocker rule(s) and the page will load as expected.