Red Hat, Green Hat is the twenty second episode of Between the Lions.
PBS Kids GPB Description
Edit
"Lionel reads a book Red Hat, Green Hat about two friends in Africa who go insane that one either side of a farmer's hat was red or green. He wonders why Leona would want a troublemaking hat like in the story either because she doesn't know, she didn't read it, or it's that she can't read and she's too young! When Leona is shown with her own hat (red or green on either side) Lionel thinks it's dangerous and Leona complains about thinking everyone complaining about his own red hat. However, everyone goes insane over either side green or red on Leona's hat she made."
Segments
Edit
Martha Reader and The Vowelles: bed
Robots: bed, bet, pet, pen, hen
Information Hen sings about birds (EKA: Episode 14: Lionel's Great Escape Trick)
Fred Says; hen (EKA: Episode 06: The Hopping Hen)
Replaced Word Songs: Ben, hen, ten (EKA: Episode 04: Farmer Ken's Puzzle)
The Great Smartini: ten red-vested hens (EKA: Episode 06: The Hopping Hen)
Busterfield is wed to a chicken, but prefers to not be
Tammy Lionette sings W Trouble (EKA: Episode 04: Farmer Ken's Puzzle)
Sky Words: weep, seep, sleep
Gawain's Word: sleep
Dr. Bertice Berry: beep
Letter Bugs: beep, peep, pep, pen, ten
The Monkey Pop Up Theatre Sven/Ted Said Ten Tents/Cents (EKA: Episode 01: Pecos Bill Cleans Up the West)
This  is the 1st time Theo said a key word and blend sound when the gray hand pulls it out instead of Cleo.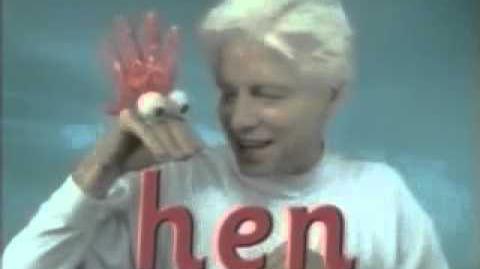 Ad blocker interference detected!
Wikia is a free-to-use site that makes money from advertising. We have a modified experience for viewers using ad blockers

Wikia is not accessible if you've made further modifications. Remove the custom ad blocker rule(s) and the page will load as expected.