Lionel and Leona see Babs Caplan write a story.
The Vowelles: tap
Fred Says: nap
Arty Smartypants: lap, clap, flap, flapjack
Seesaw: flap, lap, clap
The Word Doctor with Dr. Ruth Wordheimer: thunderclap
Short Song: clam, swam, dam (EKA: Episode 10: Lionel's Antlers)
Sea Words: clam, cram, crash
Gawain's Word: crash
Sam Spud: same/Sam
Dr. Beatrice Berry: cap
Maze: cap/cape
Silent E: cap/cape
Fred Says (again): scrape
The Adventures of Cliff Hanger: Cliff Hanger and the Big Ape and the Banana Drop
Bookmarks: ape, cape, cape, cap, sap, sad
The Word Doctor with Dr. Ruth Wordheimer: sad/glad
Watch Episode
Edit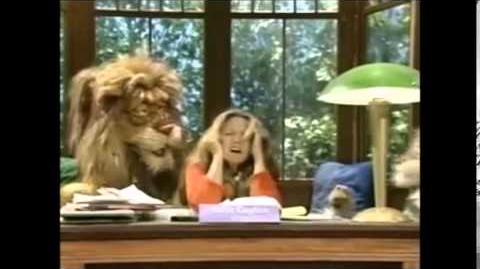 Ad blocker interference detected!
Wikia is a free-to-use site that makes money from advertising. We have a modified experience for viewers using ad blockers

Wikia is not accessible if you've made further modifications. Remove the custom ad blocker rule(s) and the page will load as expected.