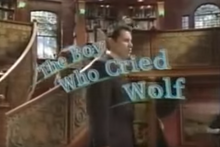 The Boy Who Cried Wolf is the eigth episode of Between the Lions.
Picture
Segment
Description

SCENE 1
Theo is asleep, so Information Hen gets some information to wake Theo up, so he wakes up, but then falls asleep again, so A Chicken Waits soon follows....

SCENE 1

cond't

Cleo reads "The Boy Who Cried Wolf" to the cubs. The cubs want to know how to watch sheep, so they find a book for the boy in the story, as Cleo watches the grey hand take out two letters to a segment...

Insert
Cleo sees the grey hand pull out...ig...

Muppets
Martha Reader and The Vowelles: wig

Insert
Buster is in a wig

Celebrity
Fred Says: iggle/jiggle (screened)

Cartoon
Replaced Letter Songs: Fellow Named Sig

Muppets
Gawain's Word: jig

Cartoon
Robots: jig, wig, big

Cartoon
The Adventures of Cliff Hanger: Fuzzy Wuzzy and the big wig

Insert

cond't

A Chicken tries to wait again, but the monkey and the cannon are not allowed to in the library.

SCENE 1

cond't

Lionel and Leona help the boy how to cry wolf with a song and dance, while Theo is still asleep.

Cartoon
Word Stage: big, bag, bat, bit, it

Muppets
Johnny Consonanti and The Vowelles: it

Muppets
Dr Nitwhite and Watson: in/it

Film
Tongue Twisters: This is the Sixth Sister

Celebrity
Denice Graves: is

Animation
Silent E Word Maze: pin/ pine

Cartoon/

Song

Silent E: pin/ pine (EKA: Episode 03: Little Big Mouse)

Celebrity/

Muppets

Dr. Ruth Wordheimer: intelligent (EKA: Episode 03: Little Big Mouse)

Muppets
The Adventures of Sam Spud: The Terrible Pickle

Insert
A girl watches the show and compliments it's dumb, and her mum says it's not nice to say that.

Insert
The grey hand puts "ig" back and the word big.

SCENE

cond't

As they read the rest of the story, the boy ends up getting in trouble for crying "wolf" and says not to do it again.

SCENE

cond't

The camera comes back to the chicken and Theo (still sleeping) and the conclusion of "A Chicken Waits" goes on and the group of singers tell her not to cry for help unless you need it.

Scene

Final

Theo wakes up from his nap and tells Cleo all about his dream.. and the announcer ends the story....

Insert
Walter Pigeon takes a photo of himself in a wig.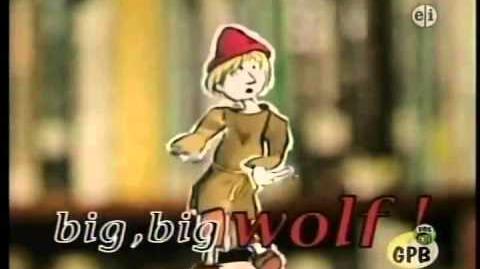 Ad blocker interference detected!
Wikia is a free-to-use site that makes money from advertising. We have a modified experience for viewers using ad blockers

Wikia is not accessible if you've made further modifications. Remove the custom ad blocker rule(s) and the page will load as expected.