The Hopping Hen is the sixth episode of Between the Lions.
Lionel and Leona came to a woman who was disturbed by a hopping hen. Lionel tells the hen to get out, but Leona runs into Theo Lion who came with a heavy box of signs from the printer. Theo calls Cleo that the signs are here. Cleo was surprised that the signs are here. Lionel asks Theo that are what kind of signs.
Theo replies that signs hang up all over the library that tell everybody the rules. Cleo broke her claw when she cut the tape. Click interrupts with a warning which is; flood! Lionel read some signs, and decides to hang them up. Leona hops with the hopping Henrietta.
Walter and Clay Pigeon are having fun with Barnaby B. Busterfield III who has a party hat on his head. Walter read the sign; "fun here". Lionel tells Leona that this is the last sign; "hopping hen here". Lionel decides to have fun with Henrietta. Walter and Clay sing their song; "Oogidum" while they were walking to Lionel. Lionel slides on the stage and sings Brand New Rules to the patrons.
Everything in the library causes a mighty ruckus and Theo yells that what is going on. Cleo realized that the printer forgot the "No" on all the signs. Theo said there should be "No saxophone playing" and "No breaking bricks permitted". Just then, a delivery man arrives with a box, and relieves to be the noes. Soon they put them all over the signs and everything put back to normal. However, Leona finds a hopping hen sign without a no, but Cleo reveled that one sign isn't to have. They put it outside so the hen could hop and everyone else can read in private. The fun here sign also a no. Now the pigeons have fun where Buster is.
Segments
Edit
Fred Says: hen
The Vowelles: men
Characters
Edit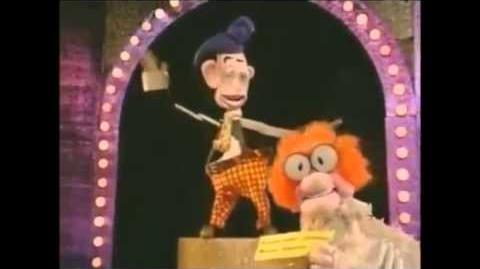 Ad blocker interference detected!
Wikia is a free-to-use site that makes money from advertising. We have a modified experience for viewers using ad blockers

Wikia is not accessible if you've made further modifications. Remove the custom ad blocker rule(s) and the page will load as expected.