"Little Big Mouse" is Episode 3 of Between the Lions.
The lions read "The Lion and the Mouse". After reading half of the story, Cleo hosts a question with the lion why the little brown mouse slipped through his fingers and if she would help him on Between The Covers (BTC) As they read the rest of the story, and during the rest of the story she helps him out of the net.
Segments
Edit
The Vowelles: hit
Barnaby B. Busterfield III: It is coming
Sky Words: it, lit, lip, rip, trip
Tiger Words: trip
Sky Words: trip, rip, zip
The Un-People: unzipped,rezipped
Stage Words: zip, tip, tick, tickle
Gawain's Word: tickle
What's Cooking?: Tickled and Pickled Ribs
Denice Graves: sit
Stage Words: it, sit, sick, tick, tickle
Fred Says: tickle
Dr. Ruth Wordheimer: Intelligent
Centipedes: in, fin, fine, line
"Silent E"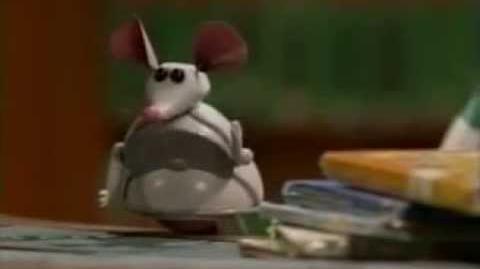 Ad blocker interference detected!
Wikia is a free-to-use site that makes money from advertising. We have a modified experience for viewers using ad blockers

Wikia is not accessible if you've made further modifications. Remove the custom ad blocker rule(s) and the page will load as expected.