Pecos Bill Cleans Up the West is the first episode of Between the Lions when it was made as the television series premiere.
Pecos Bill cleans up The West
Season 1, Episode 1 (show premier)
Air date
April 3, 2000 (season premier)
Written by
Joe Fallon
Directed by
Lisa Simon
Episode guide
Previous
N/A
Next
Episode 02: The Lost Rock
Picture
Segment
Description

SCENE 1
Theo reads "Pecos Bill Cleans up the West" to the gang, then they sing a song about how he was the best, then rest.

Insert
The grey hand (in it's first appearance) takes the letters e s and t to the first segment from "West".

Muppets
Martha Reader and The Vowelles: best

Cartoon
Colored patterns: best, bet, bell

Celebrity
Fred Says: bell

Cartoon
Water Deck: bell, bet, wet

Muppets
Gawain's Word: wet

Muppets
Arty Smartypants: nest, rest, resting, restaurant

Cartoon
Colored Patterns (again): rest, best, bet, bed

Cartoon
The Adventures of Cliff Hanger: Cliff Hanger and the Bed

SCENE 2
Lionel and Leona are practicing rope wrestling, until they capture a customer of the library, and when they find out about Pecos Bill, When Click drags and drops him out, a tornado comes out of the book!

Insert
Walter and Clay parody the song to "Buster is the Best", until the paper tornado hits Buster's hat and them away!

Cartoon
Replaced Sky Words: west, chest, chess, mess

Muppets
Martha Reader and The Vowelles (again): mess

Celebrity/

Muppets

Dr. Ruth Wordheimer: impressive

Celebrity
Dr. Bertice Berry: yell

Song
What's Your Name: short e

Cartoon
The Un-People: undressed, redressed

Muppets
The Monkey Pop Up Theatre: Sven Said, Ted Send Ten Tents

Insert
The grey hand puts "est" back

SCENE 2

cond't

The tornado is still happening, so Cleo and Theo write a story and song called "How Pecos Bill cleaned up the library mess", then they send Lionel and Leona to bed.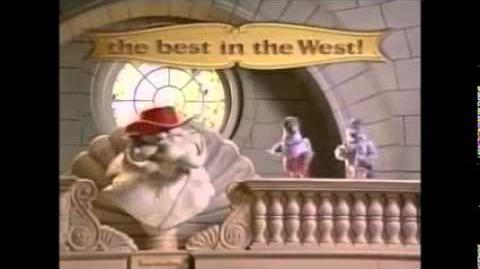 Ad blocker interference detected!
Wikia is a free-to-use site that makes money from advertising. We have a modified experience for viewers using ad blockers

Wikia is not accessible if you've made further modifications. Remove the custom ad blocker rule(s) and the page will load as expected.