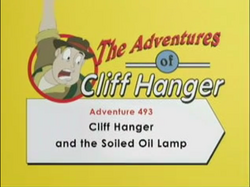 Cliff Hanger and the Soiled Oil Lamp is a book from the The Adventures of Cliff Hanger book series by Livingston Dangerously about the enjoyably joyful "oi/oy" sound.
Cliff is not enjoying his time on the cliff, when he spots a soiled oil lamp! Cliff employs his expert decoding skills to learn that if there's a soiled oil lamp, he should rub it, and a genie will pop out of it. Cliff picks up the lamp, and toils hard at rubbing it, until a genie, named Roy, eventually pops out. Roy allows Cliff one wish, which he joyfully uses to wish Roy would get him off the cliff. Cliff fantasizes about how he'll rejoice once Roy releases him from the cliff, until Roy returns with a copy of "Off This Cliff" by Boyd Hoyle, and gives it to an annoyed Cliff Hanger.
Ad blocker interference detected!
Wikia is a free-to-use site that makes money from advertising. We have a modified experience for viewers using ad blockers

Wikia is not accessible if you've made further modifications. Remove the custom ad blocker rule(s) and the page will load as expected.